We're so excited to welcome Ellen Luckett Baker of The Long Thread today to share a quick and easy tutorial for coasters. Coasters are perfect for Feather Your Nest, a simple yet very practical project to spruce up your home. Ellen is the author of 1, 2, 3, Sew for Chronicle Books, and her first fabric collection called Quilt Blocks for Moda (featured in this tutorial!) just became available for purchase! You can find Ellen on her wonderful blog The Long Thread, as well as on Facebook, Twitter and Pinterest.
* * *
These coasters were made with the same technique used for the Spring Pieced Coasters (featured on The Long Thread
here
), but cut from the Flying Geese fabric from the
Quilt Blocks collection for Moda
.
This is a quick tutorial for string-pieced coasters. It seems that I do a lot of
coaster tutorials
on The Long Thread, but I'm a fan of quick, easy and useful things. And this is a great project for fabric scraps or striped fabric.
Supplies (for 4 coasters):
Fabric scraps: min. 24″ length
Backing fabric: 5 1/2″ x 22″
Quilt batting: 5 1/2″ x 22″
Matching thread
1. Cut fabric scraps with minimum 24″ length. If you're using fabric with a striped design like the Flying Geese print, carefully cut along the stripes accounting for seam allowance.
2. Sew right sides together until you have a width of 6″ or more. Press. Cut off sides and top to form a rectangle 5 1/2″ x 22.
3. Cut out tops, batting and backing fabric in 5 1/2″ squares.
4. Sew around, leaving an opening to turn right sides out. Opening should be on a side with one continuous piece. Clip off the corners.
5. Turn right sides out, press and top-stitch around the coasters, thereby closing the opening.
* * *
Huge thanks to Ellen for sharing this fabulous little project with us. If you need some additional inspiration for Feather Your Nest, check out The Long Thread's page of tutorials for the home. And be sure and take a look at Quilt Blocks. We're so excited about this new fabric collection and can't wait to get our hands on some!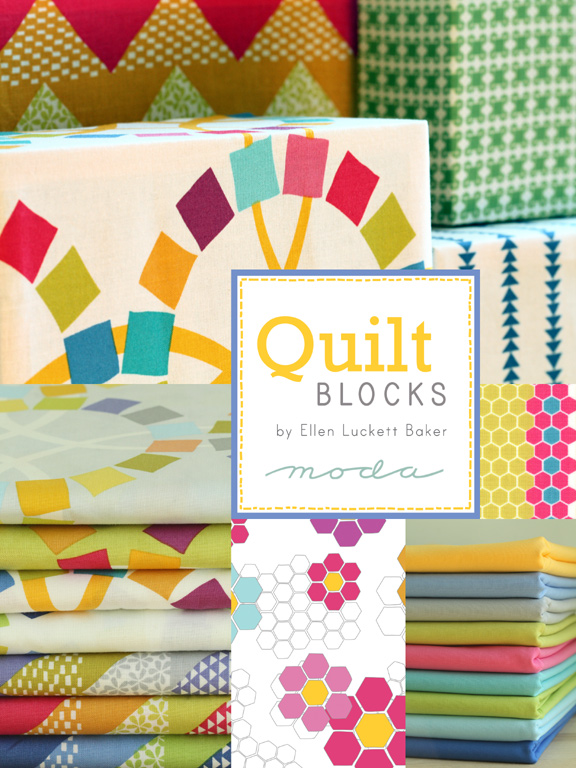 Feather Your Nest
is a month-long series here on Stumbles & Stitches focused on making things for our own homes. Along with featuring patterns, projects and guest posts, we're also having a sew/stitch-along and contest with amazing prizes! Make something for your own nest and get a chance to win. Check out all the details and sign up
HERE
. Sign-up deadline is April 22, entries must be submitted by April 29. We'd love to have you join us!