How's everyone's Wednesday going so far? As part of Feather Your Nest, some inspiring bloggers, designers and artists are inviting us into their homes for a little tour. We've asked them to share photos and thoughts of what "handmade" and "re-purposed" means to them at home.
Today's Featured Nest installment is from Ellen at The Long Thread! If you've been around Stumbles & Stitches for long, you know we are big fans of Ellen's blog, book and brand new fabric collection. It's no surprise that Ellen's home is a reflection of her other creative work: eclectic, colorful and wonderfully curated.
* * *
When my husband and I bought our house almost ten years ago, it had been owned by a slumlord and condemned by the city. The house was built in 1906, but many of the original features had been stripped, so we scoured the internet and salvage yards for mantels and stained glass pieces. The renovation was incredibly stressful and we ended up in a rental house while I was pregnant with our second daughter and on bed rest before the house was finished, but it's all a distant memory and I'm ready to renovate another one!
Most of the furniture in our house is from my family. So we have antiques, vintage and IKEA. I try to incorporate handmade and display the children's artwork and our own photographs.
I don't spend much time working on the house and I'm not into shopping, but once a year or so I go on a tear and clean things out, paint rooms, and re-arrange furniture. I make pillows that one by one turn into the dog's latest bed.
I like simplicity and an uncluttered look, though it's challenging with kids and my natural tendency to leave a trail of destruction behind me. But I love things that belonged to my grandmother or that my kids made and if I'm going to have a knick-knack around, I like it to have some personal meaning.
I'm sharing a few corners of our house today because I can't get it cleaned up to show you more!
* * *
And here are a few extra photos of Ellen's sewing room, borrowed from her blog with permission. So lovely!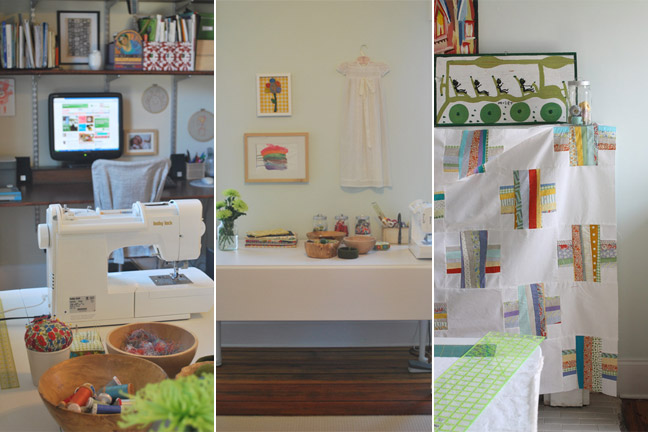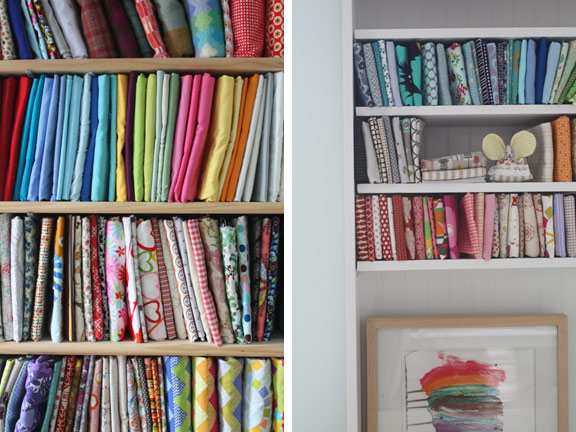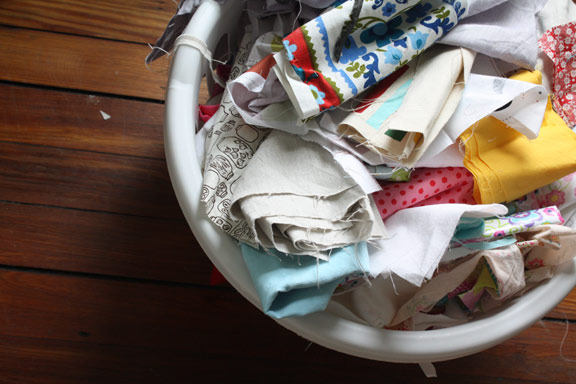 * * *
Thank you so much Ellen for sharing these corners of your beautiful home with us. You never fail to inspire!

Dear readers, did you see Ellen's coaster tutorial the other day? It is an adorable and super quick project to whip up for Feather Your Nest. Ellen's Quilt Blocks fabric just landed at Fat Quarter Shop. And in case you missed our previous Featured Nest, take a look at Maureen Cracknell's handmade home here. There's more coming up in this series, so stay tuned!

If you're new to Stumbles & Stitches, a huge welcome! We're so glad you're here. Make sure and check out our Feather Your Nest series and stitch-along! Stick around, browse for a bit and subscribe if you'd like. We love to hear from you in the comments or by email. You can also find us on Facebook, Twitter, Flickr and Pinterest (Angel/Jenny). Happy stitching!