Hi Angel!
When you first brought up the idea for
Feather Your Nest
a few months ago, I remember thinking "That is a FAB idea, but I have no idea what I'll make." I didn't give it much more thought until recently when we got the wheels in motion for this little
event and contest
. And suddenly panic set in, what the heck would I make??
My practical project manager side took over and I went around my apartment, making note of every single thing I wanted to fix, make or redo around the house. And OOOOH BOY. Let's just say I'm not lacking in ideas now!
I thought I would share what's on my to-do list, split up by room, with some inspiration photos. Then I'll pick 3 priority projects to work on this month. A lot of this stuff involves no stitches, so it doesn't apply for
Feather Your Nest
, but it'll give you an idea of everything I want to work on! Feel free to whisper I'm insane behind my back.
Entry Way/Staircase
- paint and stencil our antique wicker trunk (more on this project when I actually do it, but here's an example of a stenciled trunk)
Photo from No Minimalist Here, found via Pinterest
Living Room
- sew a couple more pillows for the couch
- make another lap quilt (because everyone is always fighting over the
Scrappy Squares Quilt
). I LOVE this
large hexagon quilt
from Blueberry Park, found in my super inspiring
Quilt board
on
Pinterest
- paint the frame of a cool mirror I found at the thrift store
- sand and paint book/TV shelves and 2 small tables
- sew cases for Kindle and laptop (not household items per se, but this room is where they live)
Photo by blueberry4park on Flickr
Dining Room
- sew pads for our dining room chairs (the current ones have had torn straps and/or missing buttons for
years
now *blush*). I found a
couple of
tutorials
on Sew4Home and I love the
two-fabric cushions by Film In The Fridge
in the photo below.
- sew a mouse pad for my desk (which is in the corner of the dining room!)
- make a mug rug for my coffee mug (I'm always digging in the recycling bin for some old envelope or catalog on which to set my cup!)
- make his/hers bulletin boards for the wall behind our computer screen so the hubby and I can each keep things handy and in sight
- cover more
file holders
with pretty paper or fabric
- redo
Ikea Drawers
because I'm tired of the fabric now
Photo from Film In The Fridge
Kitchen
- sew a French Press cozy that is easily washable (because
this one
has become filthy and is not easy to clean). How cute are these patchwork cozies by
Craft Stylish
and
464Handmade
(photo below)?
- sew a
Maya*Made basket
for our coffee bean packages (which are currently housed in a cardboard box on top of the fridge!)
- make curtain(s) to keep the sun out of our eyes when we eat breakfast and lunch in the summertime (we've lived here how long?!)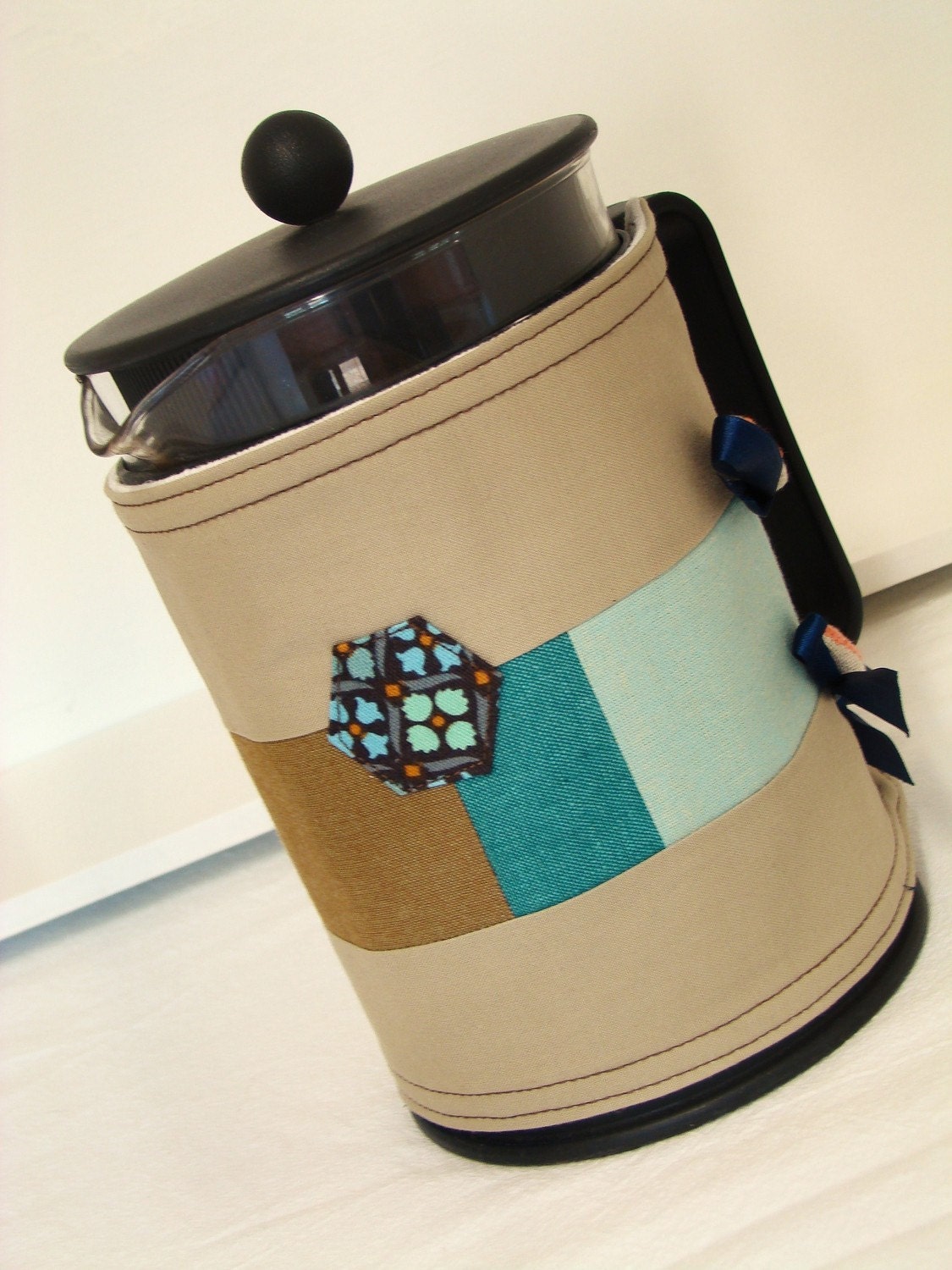 Photo from 464Handmade on Etsy
Bedroom
- make new pillows (with
Cottage Silhouette Blue fabric
, below) to go with the new grey-ish duvet comforter I want to buy from IKEA (but can't find online!)
- fix and paint bookshelves I got from my neighbors when they moved
Cottage Silhouette Blue fabric available at Drygoods Design Online
Boys' Room
- make bunting for the wall over Henry's bed
- sew a fun and cozy quilted pillow for each of the boys
- design and assemble an art-display frame for Ben's projects, similar to
this
or
that
on Pinterest.
- purchase and frame artwork (I love
this Alphabet print
by 1 Canoe 2!)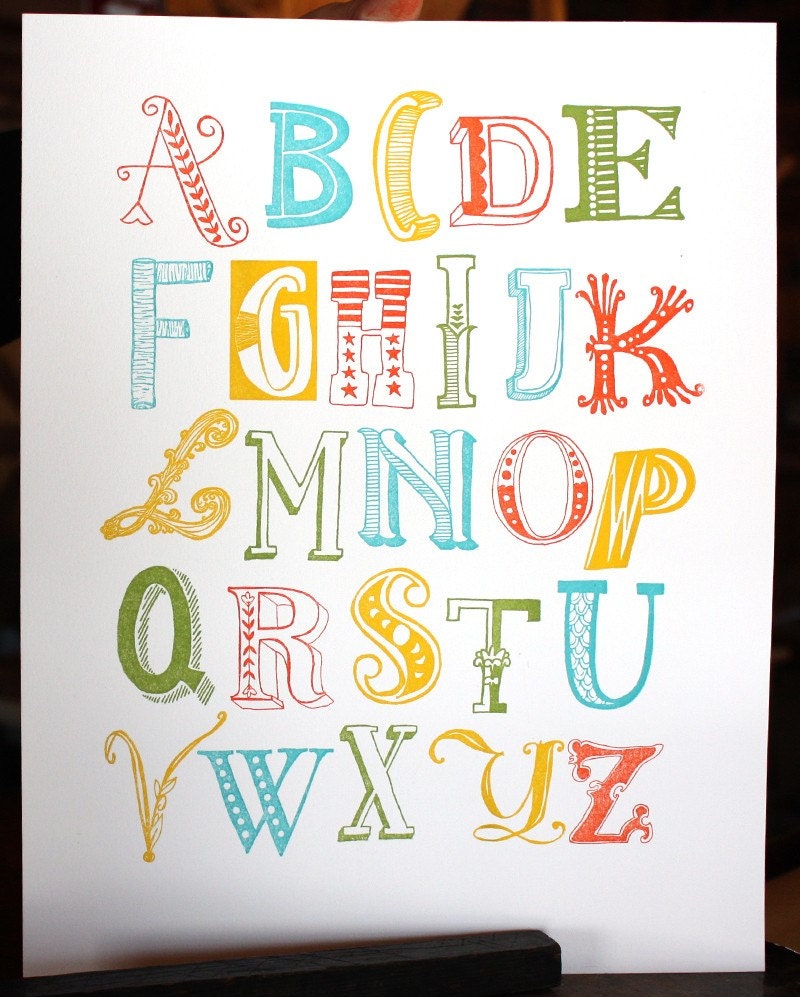 Alphabet Letterpress Print by 1 Canoe 2
And that's about it! I haven't decided what my 3 priority projects are yet. I'm pretty sure the dining chair cushions need to be at the top. I'll keep you posted!
What do you think of my list? What are you going to make for Feather Your Nest? I can't wait to see. Go sign up if you haven't yet. The prizes and judges are pretty awesome. Have a great weekend, and Happy Easter if you celebrate!