Happy New Year!!!!!!! I hope the holiday break brought you much joy and relaxation.
Angel, I know you've had to move your household right after Chistmas for the big remodel happening at your house. How is everything going? Have you got your craft stash organized in the new place?
It is the time to make resolutions and define goals for the year ahead. We're entering our 3rd year on this blog (can you believe it? We should have a birthday party!) and I love to revisit our previous "
Crafty
Resolutions
" installments.
It seems I hit about half of my goals for 2011 and failed on the other half. But, that's okay! My big accomplishments for 2011 were: finding the time to sew and craft with 2 kids, including a baby; making a sizable dent in my stash, by using it up in projects and giving away a large portion of it twice; and finally opening an
Etsy shop
!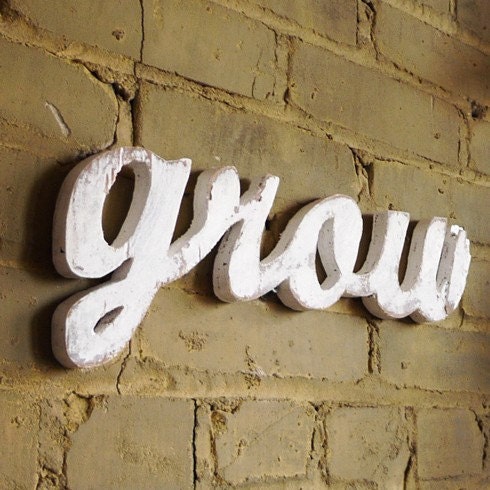 "Grow" wood sign by William Dohnam on Etsy
My inspiration word for the new year is "grow". My Crafty Resolutions for 2012 are both general and specific:
1.
Grow my business
. That means: stock my Etsy shop and seek custom work, set milestones, be smart about marketing, push myself to be creative and innovative with projects.
2.
Get organized.
Our dining room (the biggest room in our apartment, it also serves as office, craft room, and sewing studio) continues to teeter on the edge of out of control. I would like to get a handle on it. I think we're going to move some furniture around next weekend. I also need to make trips to Ikea and the thrift store for some small storage solutions in the near future. I shall keep you posted...
3.
Do more kid crafts
. With caring for a baby and launching a small business in 2011, I feel like my craft time with Ben has fallen by the wayside. He got a subscription to
Kiwi Crate
for Christmas, as well as some awesome art supplies: just the motivation we needed to get the ball rolling again. I'd like to be more thoughtful about dedicating some weekly craft time with my big boy before he starts kindergarten next Fall!
4.
Be greener.
I tend to be pretty mindful about repurposing and using materials that don't harm the earth or its people, but I'd like to do more: more repurposing and upcycling, and using more organic and eco-friendly fabrics and materials.
5.
Be the artist I want to be.
This is a spin on the well-known quote by Gandhi, "Be the change you want to see in the world" which I think applies to so much in life. I want to be the kind of artist and crafter who is productive and inspiring, who challenges themselves and others, who keeps creating and learning. Practically speaking, this means I aim to take more risks, be more thoughtful about my projects and design, sketch more, hone my skills, write more original tutorials.
Whew! I think that about rounds it up.
What about you? What are your Crafty Resolutions for 2012? I'd love to know.