I don't know about where you are, but here in Seattle, autumn has firmly landed. Rain is back, there's a chill in the air, leaves everywhere and the light has changed. As much as this weather doesn't thrill me (especially after a
much
too short summer), I love the wealth of activities this season brings with it (Leaf collecting! Acorn gathering! Pumpkin picking! Pie baking! Cider drinking!) and the anticipation of the nearby holidays.
As I was creating items for my new
Etsy shop
, I decided to try out a few seasonal things. I love the shape and color of pumpkins. I always get a kick out of seeing them at the stores and markets, and on all our neighbors' stoops this time of year. They pop up here and there randomly as if growing overnight out of steps and porches. Ben gets so excited about seeing the latest jack-o-lanterns and pumpkin collections around our neighborhood. So, I got out my sketchbook and a few days later...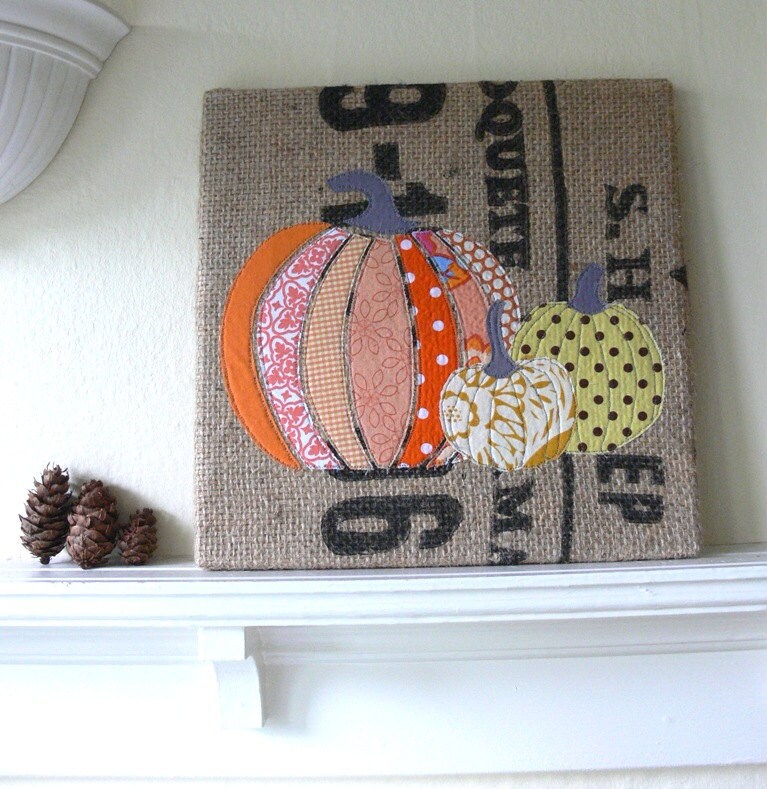 I am so happy about these pumpkin pieces!! I think the style is really different depending on the background -- boldly stamped coffee bag or plain burlap. I love both for different reasons. (They are for sale in my shop now, click on the photos above to go to the listing).
I thought I would share a little bit about my process for creating these, in case you want to make a similar project. I'm also assembling a few kits for my shop with the template, instructions, burlap and fabric to make these.
I'll update here when they're ready and listed (probably tomorrow at some point).
Kits are in the
shop
now! Here's
one
.
Update
: I've also listed the PDF pattern for this pumpkin art in my shop
here
.
As with most of my projects, this process started with sketching a template and selecting fabric scraps. I cut out my template pieces and traced them onto fusible web that I had ironed onto the back of my scraps.
I laid them in place onto the burlap, fused them with the iron, then top-stitched around each piece. On the single pumpkin piece, I embroidered a green swirl. On the three-pumpkin piece, I added two smaller pumpkins and top-stitched their ridges with contrasting grey thread.
Both pieces are backed with muslin, then stretched onto a wooden frame and professionally finished with kraft paper and a wire for hanging (the
framing job I had in college
is coming in handy!)
I had a lot of fun making these and love the result. I've been so obsessed with pumpkins that I went browsing for them on Etsy and created a
Pumpkin treasury
. Then I got so addicted to Etsy treasuries that I wasted a bunch of time browsing them, and I made an
Acorn treasury
. Fun stuff. I may need an intervention soon.
All right, I better stop there and get back to work on those kits. And perhaps quit browsing Etsy and take care of my children.
What kind of autumn crafting and sewing have you been up to? What do you think of my pumpkins? I'd love to know.