Happy Friday! When you read this, I should be on the Olympic Peninsula in Washington enjoying some fun (hopefully in the sun!) with Angel and our families. Yay! I'm so looking forward to this mini-vacation. I hope you have some fun weekend plans too.
With the busy-ness of our
fundraiser
, and
Felt Week
before that, I have fallen so behind on all my favorite blogs and web stops. I finally had a bit of time to catch up and here's what caught my eye.
Photo from Cluck Cluck Sew
- I continue to be wowed by the quilts on
Cluck Cluck Sew
. I especially like Allison's two
latest
ones
. They're simple but modern and striking all the same.
- I've mentioned
Pinterest
ad nauseam already, I know. But if you're on there, I recommend following
Mary Beth Burrell
. She is hilarious and pins the best stuff. (You can follow
me
and
Angel
too, we'd love to connect with you!)
- I've been digging the blog
Needle and Spatula
lately. We "met" Kate when she won the
Felt Week giveaway
and I love her style and projects. Check out her
Bloggers' Dinner Party
, sounds like so much fun!
Photo from Heartbreak Homestead
- Another person we "met" via this blog is Hannah of
Heartbreak Homestead
who won our
Spring Runner Sew-Along
. She creates patchwork unlike anything I would come up with on my own and I love that! She just unveiled a beautiful new blog layout so go on over and say hello.
- Anna of Noodlehead wrote a
tutorial for a nice patchwork bolster
, in 2 sizes. (Originally posted in
The Long Thread's HandMayde series
.)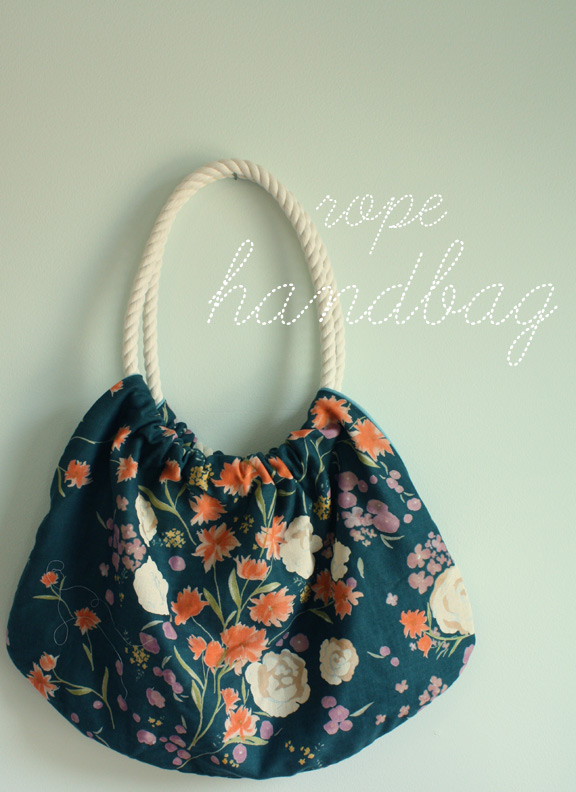 Photo from The Long Thread
- Speaking of The Long Thread, I love this
simple rope handbag
tutorial. Fabulous fabric choice! (If you're interested in crafty debates, check out Ellen's
Shades of Grey post
and the ensuing discussion in the comments. Definitely food for thought.)
- Novita aka
One Purple Person
is sewing some incredible stuff:
jeans
,
swimsuit
,
lingerie
... As usual, her tailoring is super crisp, her details perfect and her photos stylish. I'm awed by her stitching talent!
Aaaand, I think that's enough for today. Off to enjoy the weekend! Have a lovely one.